Selling Options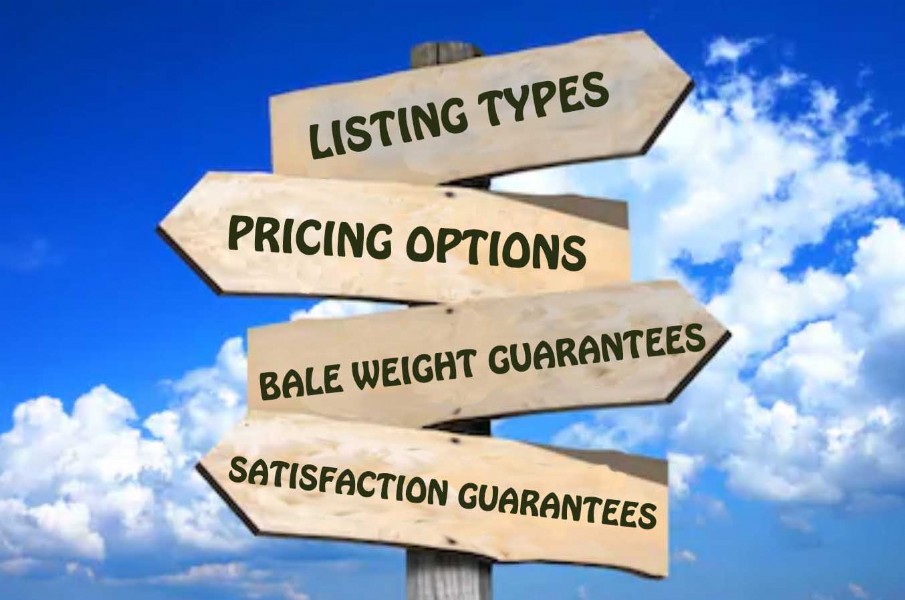 TruBid offers plenty of flexibility when it comes to selling your forage. When you post your forage with TruBid you will be presented with the following options.
Listing Types
TruBid offers 3 different ways to post your product in our system and gives you the ability to move items to a different listing type.*
Fixed Price Listings - Fixed price listing are basically just that. As a seller, you have the ability to adjust the selling price on an item at any time.

Auction Listings - With an auction listing, you are able to post your forage for sale on one of TruBid's pre-scheduled bi-weekly auctions.

Unlisted Stock - Selecting the Unlisted Stock option will hide your posting from public view. You can move an Unlisted Stock item to a Fixed Price listing or Auction at anytime. You can also move a Fixed Price listing to Unlisted Stock at anytime as well.*
* Once an item has been posted to an auction, it cannot be moved until it has been sold or no-saled.
Pricing Options
TruBid gives you a variety of pricing options to choose from to help you get the most out of your forage sales.
Sell by Bale - If you choose to sell by the bale you will be given the option to offer the buyer a weight guarantee.

Sell by Ton - When you sell by the ton, the buyer initially purchases your product based on bale quantity and estimated bale weight. Bales must then be weighed, and then depending on whether the actual weight comes in above or below the estimated weight, the buyer or seller will compensate the other accordingly.

Volume Pricing - Using volume pricing gives you the ability to set up or select a discount scheme where you can offer volume-based pricing for your forage (ie. if 51 to 100 more bales are purchased you could offer a 20 percent discount). You can add as many pricing schemes as you like and save them with your profile for future use.
Bale Weight Guarantees
Buyers are very wary when it comes to bale weights. Offering a bale weight guarantees will typically add value to your product because buyers will know what they are getting. Visit our TruBid Guarantees page for more information on how the following bale weight guarantees work.
Satisfaction Guarantees
Offering some type of satisfaction guarantee to the buyer can greatly increase the amount you can get for your forage. Visit our TruBid Guarantees page for more info on the following Satisfaction Guarantees.