Selling Features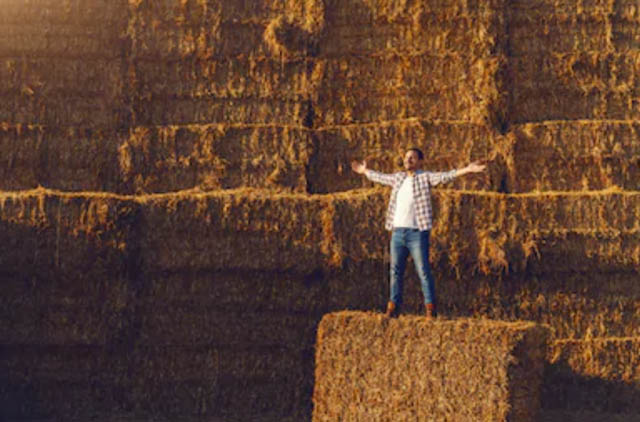 Take advantage of the numerous benefits offered to you as a seller. We offer more features and options than any other forage exchange in the industry. TruBid gives you the ability to sell your forage products quickly at the highest market prices, all from the comfort of your own home or even while you're in your barn.
Strategic Marketing
Forget the hassle of posting your forages on multiple listing sites, or even worse, having to haul your bales to a hay auction to be sold, costing you even more time and money. TruBid will take care of marketing your products for you by getting it out there to potential buyers. We are aggressive in our marketing and have staff dedicated to making sure potential buyers know what is available. Whether it's horses, cattle, sheep, goats, alpacas, deer or other small animals, we make sure we hit them all! You can track the progress of our marketing campaigns on our Marketing Coverage Area map page.
GET MORE
and
SELL FASTER
with Effective Marketing!
Streamlined Posting Process
Enjoy our simple and streamlined posting process! We prompt you for all the information buyers may be interested in, then compile and present it for potential buyers in a way that is simple and easy to search and view.
Versatile Listing Options
Looking to sell your forage faster or take advantage of high demand? TruBid gives you that option plus many more. You have the flexibility to use the listing option that works best for your product, the current demand or your motivation to sell.
Online Auctions - Selling through our bi-weekly online auctions allows sellers to take advantage of high demand or move products quickly when needed. No need to load your bales and haul them all the way to a hay auction when you can sell them for more money without leaving your home and do it all for a significantly lower cost.

Volume Pricing - With our volume pricing option, sellers will have the ability to price their product based on specific volumes.

Fixed Pricing - Sellers using the TruBid Hay Exchange general listing are able to keep their products listed until they are sold. Sellers are able to price their products based on different volumes, change the pricing, and move items to an auction at any time. Quantities are automatically updated as product is sold or moved to auction.

Sell by theTon or by the Bale - Sellers have the option to sell by the ton, by the bale, OR they can offer either option to potential buyers.
Inventory Tracking System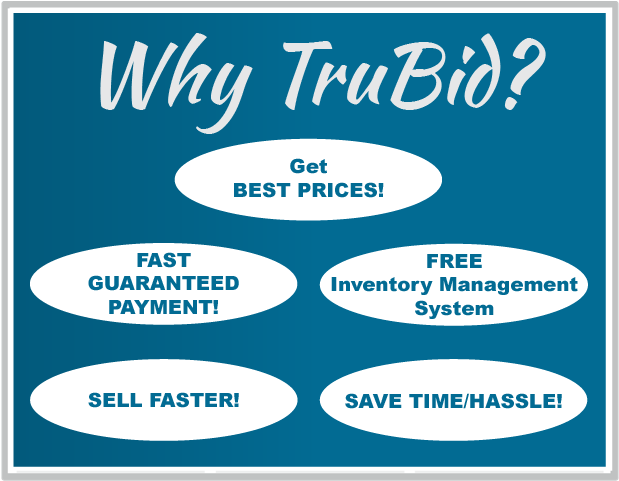 Looking for a way to track your inventory? TruBid can do that for you! As your forages come in, you can enter them into TruBid right away and designate the storage location using the "Location ID" field. You can add new inventory as "Unlisted Stock" which can be listed and sold later, if desired. As your forages sell, the bale quantities for each lot are automatically updated or deleted when sold out; so no need to worry about going back to update/delete your original postings. You can view all your lots by going to "My Consignment Center" on the My Trubid page.
Sales Tax Processing
In most states, forage sellers are legally required to collect sales tax on products they sell unless they have an exemption certificate on file from the buyer. TruBid takes care of this responsibility so you don't have to be collecting exemption forms or worry about the state coming back to you for potential sales tax owed.
Guaranteed Payment
No more wondering when, or if, you are going to be paid. By selling through TruBid, you are guaranteed to be paid. Sellers can choose to receive payments by either an automatic bank deposit to your savings/checking account or by a mailed check.
Customized Sales Reports
Generate your own customized sales reports where you can filter by date range, sale type, forage type, or bale type. You can also choose to have your report summarized enabling you to track and compare your sales from year to year base on sub-categories of your choice.
Seller Rankings
Build up your ranking as a reputable seller and increase your sales and profitability even more as more buyers will be willing to risk buying from you (especially from long distance) because of your reputation. We are planning to implement a Seller Tier Ranking system in the future once a significant number of sales have been processed. Any issues with a sale are tracked internally. The idea behind this will be to assign a tier-type ranking status to sellers who achieve a specified number of 'issue free' sales. Sellers with a higher tier ranking status will have the highest level of trust from buyers which will increase the demand for their products and expand their customer base.
Free Listings!
It does not cost anything to post your forage for sale on TruBid. If someone purchases your forage we charge a small nominal sales fee. Our sales fees are the lowest in the industry and will very easily be covered by the increased amount you will get for your forage. You won't find another listing site out there that provides anywhere close to the features and benefits we offer, enabling you to maximize your profits and move your products quickly.